James "Smokey" West Signature Knife
Updated: September 21, 2015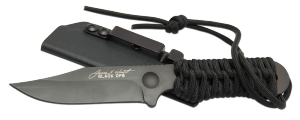 James "Smokey" West former U.S. Special Forces former "Black Ops" combat veteran's  signature knife was designed exclusively for FightFast. Your Black Ops blade can be carried inverted around the neck as a neck knife. So it's hidden but can be drawn fast.
You also can use the shoulder harness position so the knife rests comfortably at your side right under either arm. This is perfect if you're well dressed and don't want a knife clipped to your belt. Just a matter of reaching into your suit jacket.  But you can clip it to your belt, too. The reversible and removable belt clip can be configured for 8 carry positions. It can be used whether you are right handed or left handed. And yet a simple tug will release the blade instantly.
It's why SWAT cops and soldiers alike are moving to Kydex. It's a kind of wonder material that won't swell, shrink, rot, or hold moisture like traditional leather sheaths and can be drawn with shocking speed.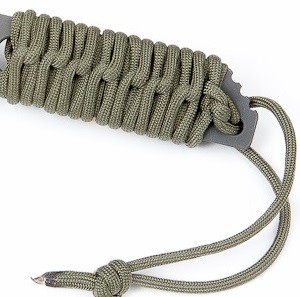 Another thing is the 550 Paracord Wrapping: Provides an amazing tight grip even when it's wet or covered in mud or blood. In the case of an emergency the braided handle on your knife can be removed providing you with 10 feet of paracord which is strong, elastic and lasts forever. It is coveted by military and survivalists.  So reliable that astronauts use it in space to repair the Hubble Telescope. Here's another thing. You can remove the paracord handle and the reversible belt clip to make your Black Ops knife so low profile that it's practically invisible when carried around the neck or under a shoulder.  This is really amazing. The blade is so thin – just ¼ inch thick – that it's undetectable — even under a workout shirt.  Talk about deep concealment.  And yet even though your Black Ops knife is slender, it is extremely tough because it's constructed from a single piece of D2 Tool Steel.  D2 is a robust high-carbon, high-chromium, air-hardened tool steel that is characterized by numerous, large, chromium-rich alloy carbides in the microstructure.
Check out the knife at the link below.
Click here  to go directly to the cart to purchase
Click here  to go to the advertisement